Santa CAAWS
❤️💚❤️ Santa CAAWS is Nov. 5! ❤️💚❤️ Register before Nov. 1 to receive 10% off a non-digital photo package and line up at 9 a.m. instead of 10am.
PRE-REGISTER HERE!
Bring your pets and kids to have their photo taken with Santa for your holiday cards! Santa CAAWS is our second largest fundraiser, with
100%
of the proceeds going to help our
shelter cats and dogs.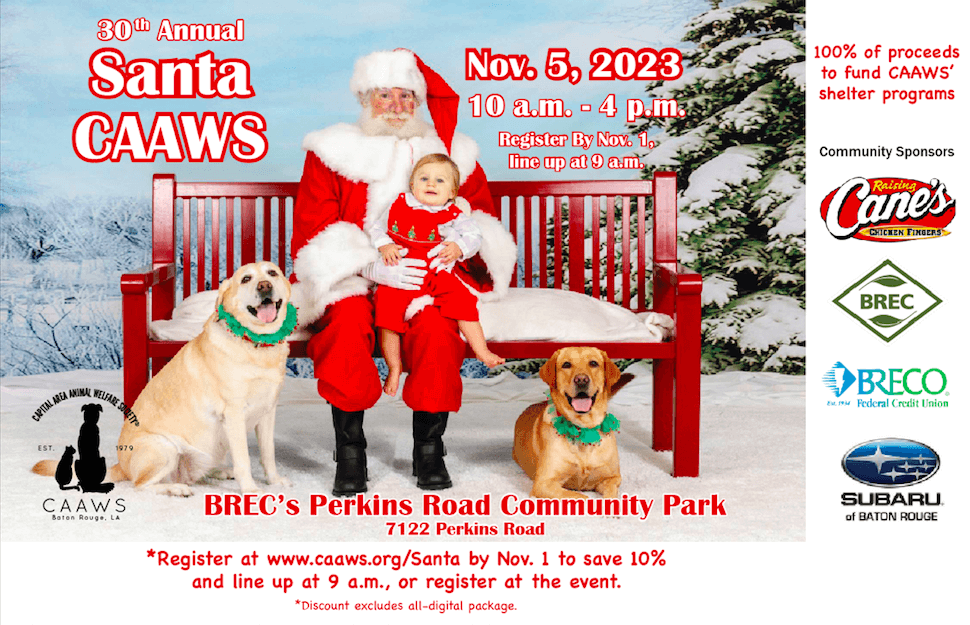 Cuddly creatures of all kinds are welcome to take pet photos with Santa at Santa CAAWS. We've had dogs, cats, goats, and more come to our event and take fabulous photos with their owners and Santa. You can dress up your pet in a cute Christmas costume to intensify the holiday spirit or go for a natural look. Either way, you'll have a beautifully-designed backdrop and a jolly Santa Claus to make your holiday photos look amazing.
After you and your pet take your photos with Santa, you can choose from several different packages of photos and holiday cards. All proceeds go to running the shelter and helping animals in need. It's the season of giving, so help give your support to animals in need while creating a beautiful holiday memory of you and your pet that will last forever.
Check out these adorable highlights from last year's Santa CAAWS event. This could be you and your pet!
CAAWS Runs on Donations from You
CAAWS is a 100 percent volunteer-based organization with no paid employees. All donations go to help operate our no-kill shelter and keep our programs going where we provide a safe haven and care for our homeless dogs and cats. Donations go toward helping us provide medical care, food, shelter, and adoption services to animals in need. They also go toward helping us educate the community about humane animal care, so we can make the world a better place for animals and keep animals off the street. It's the season of giving, so consider giving to the neglected and abused animals in your community.